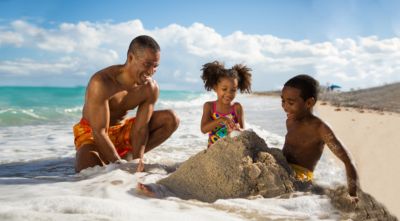 Holidays are so last year. It's time to make a plan to exchange gloves and mittens for a week of sunglasses, balmy breezes and sandy toes. Unless you're a family of snow bunnies that is, in which case the mountains and cozy fires of ski destinations may be just the kind of lift your spirits need. But no matter what type of vacation brings your family warm smiles, you'll want to get a jump on planning your escape for one of the busiest travel times of the year.
Here are four simple steps to get you well on the way to your most enjoyable spring break yet!
Book your flight today.
While studies have shown that the best time to purchase a domestic flight is 6-7 weeks before your trip, there are two important exceptions to that rule. Yes, you've guessed it–holidays and spring break. To get the best price during those sought-after time periods, the rule of thumb is that the earlier you book, the less expensive your flights.
Make your Points Reservation now.
If you haven't already, visit bluegreenowner.com and book your stay.  There are many Spring Break destinations with Bluegreen resorts including Orlando, Las Vegas, New Orleans, and Myrtle Beach.
Prepare your gear.
Begin writing packing lists for each of your family members so you're sure to not miss any essentials. It will also help you stick to your vacation shopping budget and spread the expense over several months.
Enjoy the planning phase.
Anticipating a great vacation is half the fun of taking the trip. Take full advantage of the pre-getaway period and begin your Pinterest board to collect beautiful photos as well as helpful travel tips from around the web.
Now is the best time to begin working on making the most of your Spring Break getaway. Planning well ahead is the best way to increase your chances for a stress-free trip so you can unwind and enjoy a week of true relaxation. Starting now also means you'll have more time to put thought into the little things that make the kind of vacation your family will always remember.
Like our
Facebook page
 and share your favorite vacation memories!