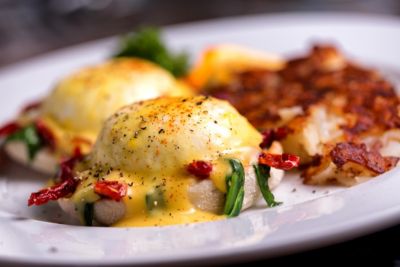 Did you know September is National Better Breakfast Month? Breakfast is the most important meal of the day. The wisdom behind that statement is it jumpstarts your metabolism for a great day of adventure. Fuel up at these tasty restaurants during your Bluegreen vacation in September.
Crockett's Breakfast Camp—Smoky Mountains, TN
Crockett's Breakfast Camp is easy to spot. Just look for the giant skillets in front and go on in. The atmosphere is fun and inviting with period décor like covered wagons, potbelly stoves, rustic tools, and blacksmith signs. In these parts, hen fruit are popular menu items. Don't recognize the name? It's just another term for eggs, and you can order them any style with favorites like fried bologna and moonshine sausage. Fluffy pancakes are also wildly popular and are flipped right off a sizzling griddle then topped with a variety of toppings. Enjoy breakfast 7 days a week from 7 am until 1 pm during your getaway to MountainLoft™ or Laurel Crest™ in the Smokies.
Kiss the Cook—Glendale, AZ
Rise and shine with a stack of pancakes and thick-cut apple smoked bacon or try the eggs benedict. If you want something a little spicier to kick-start your Arizona vacation, try the New Orleans Cajun Omelet. It's made with Kielbasa sausage, bell pepper, onion, Monterey Jack cheese and then smothered in Cajun Hollandaise sauce. Other menu items at Kiss the Cook include Old Fashion Oatmeal served with raisins, walnuts and brown sugar and Grandma's Fried Potatoes seasoned just right. On the lighter side, seasonal fresh fruit plates and yogurt parfaits are also prepared. This breakfast spot is close to Cibola Vista Resort and Spa.
Dancing Avocado Kitchen—Daytona Beach, FL
Fresh juices squeezed to order, pecan waffles, and pure maple syrup are just some of the ways to start your day at this colorful kitchen "where herbivore and carnivore eat together in harmony." With a goal to serve delicious and healthy choices, there are plenty of vegetarian and meat-lover options suitable for any palate at Dancing Avocado Kitchen. Let the herbivore in your family enjoy the waffles while carnivores fuel up with the Big Ham Sammich—Two Eggs and T-Ham & Cheese, on a Kaiser Roll. Sample this unique dining experience during your vacation stay at Dayton SeaBreeze™ resort.
Second Street—Williamsburg, VA
An historical vacation should include brunch at Second Street. The Chesapeake Benedict is a flavorful combination of griddled blue crab cake, smoked Gouda grit cake, spinach, pork belly cracklings, Old Bay hollandaise and poached egg. Sweet Potato Pancakes offer a unique twist on morning classics. These fluffy treats are served with nutmeg crème fraiche, warm bourbon maple syrup and applewood smoked bacon. They don't deliver to Bluegreen Patrick Henry Square™ or Parkside Williamsburg Resort, but the Breakfast Pizza with fresh tomato, biscuit crumbles, sausage gravy, and Jack cheese is definitely worth the drive.
Mi Tierra Café Y Panaderia—San Antonio, TX
Begin your day with made from scratch pancakes. Whether you crave buttermilk, buckwheat, blueberry, chocolate chip or Banana's Foster, they're fluffy and stacked high. The Machacado is a breakfast favorite at Mi Tierra Café Y Panaderia. It features tender homemade shredded Mexican-style beef jerky with eggs, tomatoes, onions, and jalapenos—with breakfast potatoes, salsa ranchero refried beans, and tortillas. All the tasty menu items are served 24 hours per day so stop by day or night during your San Antonio vacation at Éilan Hotel and Spa.
Like our
Facebook page
 and share your favorite vacation memories!