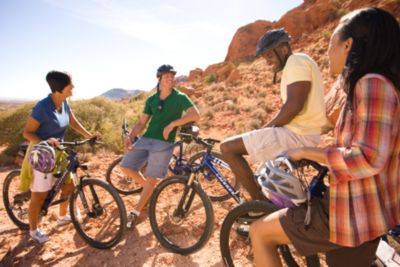 From rugged terrain to city streets, a variety of two-wheeled adventures along exciting bike trails are waiting to be explored. Check out these thrilling bike trails near Bluegreen Resorts.
3 Mile Smile via Badger Pass | Las Vegas, NV
Closest resort: Bluegreen Club 36™
This trail starts off with a moderate ascent, but gradually steepens to a saddle ridge in the mountain with spectacular views. There are switchbacks at the top allowing riders to follow tracks that extend for great distances. The trail is lined with several mild jumps and the rocky White Rhino section, an exciting and challenging diversion from the smoother trails above it. 3 Mile Smile via Badger Pass is easy to navigate, and its stable terrain makes it suitable for mountain bikers of all skill levels. This a great desert activity the entire family can enjoy together.
North Country Trail—Marilla Trailhead | Mesick Village, MI
Closest resort: Mountain Run at Boyne™
The climbs on this trail are fierce and steep, and the trail cuts through the sides of Michigan's magnificent mountains. Much of the climbing takes place during the first nine miles of the trail, until it crosses North Coates Highway. Some riders elect to turn around at this point—but those that continue see very little traffic as the trail narrows into a single track that stretches into areas that are more and more remote. Riders can go as far as their stamina allows, but will need to reserve some energy for the fast-paced trip down the side of a ridge to the bottom of the trail.
Hangover Trail | Sedona, AZ
Closest resort: Cibola Vista Resort and Spa
This is one of the best mountain-biking trails in Sedona. It's rated as extremely difficult, because the trail shoots up to a saddle that juts through the middle of two enormous red rock formations rising up from beneath the canyon. The extreme nature of this trail is even more evident, because the ride takes place on slick rock, with roll-offs, step-ups and off-camber sections. And at 200 feet above the canyon floor, the appropriately named Hangover Trail can make even experienced riders feel a bit woozy.
Creole & Crescent Tour | New Orleans, LA
Closest resorts: Bluegreen Club La Pension™ | The Marquee
Highlights of this guided ride are French Quarter and New Orleans history, the St. Louis Cemetery, Treme, The Marigny, Armstrong Park and Congo Square, and a stop for a sweet treat—Beignets at
Morning Call Cafe.
New Orleans Culinary Bike Tour | New Orleans, LA
Closest resorts: Bluegreen Club La Pension™ | The Marquee
New Orleans is where the flavors of Europe, the Cajun tradition, and Africa intersect. Sample the local cuisine, prominent in pork and seafood, at personally picked spots. Come hungry and prepare to eat
heartily!
Garden/Quarter Combo | New Orleans, LA 
Closest resorts: Bluegreen Club La Pension™ | The Marquee
This tour combines sites along both the French Quarter and the Garden District. See the original city of Lafayette, known as the Lower Garden District, then continue to the mansions of the Garden District where you'll learn about the city's architectural trends.
The Hike & Bike Trail | San Antonio, TX
Closest Resort: Éilan Hotel & Spa
This trail meanders along the San Antonio River and connects all five missions in the city. The most popular is The Alamo. It was at this mission that Texans battled for their independence. After a visit to this historical landmark, keep riding to San Antonio Missions National Park. Here, you will find Mission Concepcion, Mission San Jose, Mission San Juan and Mission Espada. Each mission is approximately 2.5 miles apart and offer a safe, paved path to travel along. Those looking to get in some additional exercise can bike in the neighborhoods and farmlands of Texas Hill Country. Bikes can be rented from kiosks throughout the city.
Like our
Facebook page
 and share your favorite vacation memories!