No vacation daydream is complete without a few flashes of poolside lounging, basking in the bright rays of some faraway sun, slowly slurping down grapes and a palm frond fanning a light breeze through your hair. While the grapes and palm frond fans may not be a part of your next Bluegreen vacation (unless you have obedient children), an extraordinary pool may be. Many of Bluegreen's resorts boast impeccable pools. From water park-like kiddie havens to serene sanctuaries, you'll find a pool to fit your fancy at the following resorts:
Bluegreen Wilderness Club at Big Cedar™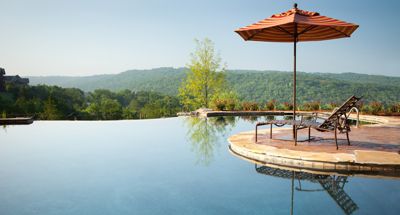 One of the greatest ways to experience the Great Outdoors of Missouri is from a float cruising through the lazy river at Bluegreen Wilderness Club at Big Cedar. This crown jewel of Bluegreen pools features 875 feet of current through caves and grottoes, along with a picturesque waterfall and super fun water slide. The infinity pool beside Indian Creek Lodge, another excellent water spot at this resort, offers hilltop views of the everlasting Ozarks. The term enjoying the view could have been invented here, as the quiet, calm pool combined with the vast landscape can overwhelm upon first glimpse.
The Fountains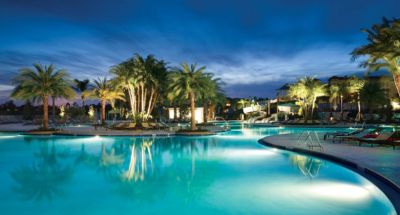 The Fountains of Orlando has two great places to take a dip. First, the regional claim to fame, Bluegreen's Wakoola Springs, offers fountains of fun with a 75,000-square-foot tropical oasis that features a zero-entry pool, interactive water fountains, hot tubs and two twisting water slides. Lounge around with friends and family while the kids splish splash and partake in daily poolside activities. Or get in and enjoy the cool waters amid the hot Orlando summer. If you want a quieter pool to dip your paws into, head to the Clubhouse and spend your afternoon listening to the fountains freshen the wading pool and the birds enjoy the nearby lake. Both pools meet both expectations of the perfect vacation station.
Grande Villas at World Golf Village®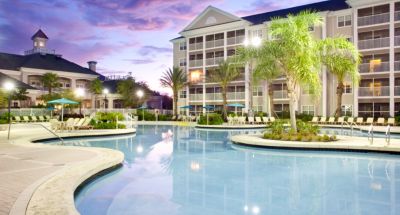 Amid the rolling greens of one of St. Augustine's finest golf courses lays the picturesque pool at Grande Villas at World Golf Village®. Resting serenely among the swaying palm trees and covered cabanas, you will find a pool that allows you to sit back, unwind and enjoy your vacation. The incoming fountain will put any traveling nerves you had to sleep as you daze away into dream land at this resort pool.
Harbour Lights™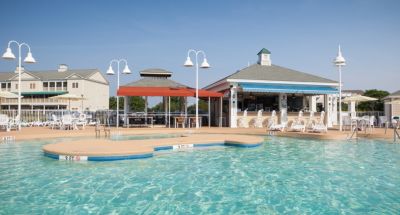 The sparkling waters at the pools of Harbour Lights™ match the bright blue skies of Myrtle Beach. Bask in the southern sun and cool off with a dip in the indoor or outdoor pool. Let yourself get swept away by the lazy river and massaged by the poolside hot tubs. As your day at the pools turns to early evening, let the last of any worries sail away with the sunset.
With so many pools and so many vacations to take, it's only a matter of time before you sit back, relax and find your favorite Bluegreen pool.
Sign on to bluegreenowner.com to Experience the Most Breathtaking Pools on Your Next Vacation!
Like our
Facebook page
 and share your favorite vacation memories!