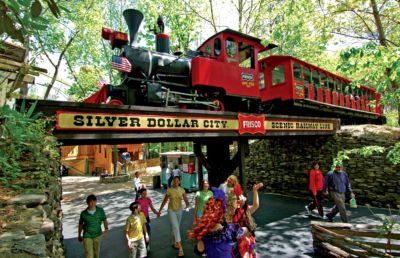 If you are looking for a last-minute trip this summer, The Falls Village in Branson, Missouri is the resort for you. Branson is chock-full of fun things to do, but there is one place in particular that you shouldn't miss—Silver Dollar City! The 1880s-style theme park is a destination all on its own, with thrill rides and attractions, hundreds of local and international craftsmen, shows and entertainment, dining, specialty classes and a whole lot more.
Test Your Grit
There are over 40 thrill rides at Silver Dollar City—from steel coasters to insane water rides to even the World's Most Daring Wood Coaster. And even more excitement awaits at Fireman's Landing, a section designed for kids ages 3 to 93. Whether you are a daredevil or just looking for some leisurely fun, there is a perfect ride for you. Even the little ones have a selection of kid-friendly thrill rides at the Grand Exposition.
Liven Things Up
You won't believe how many different shows and entertainment options there are at this melting pot of awesomeness. Throughout the day, you'll dance your way through hundreds of traditional tunes and wide-known favorites without skipping a beat. With over 40 shows a day, there is truly something for everyone to enjoy.
Bring Your Appetite
After a long day of fun, you will likely need something to eat. Lucky for you, Silver Dollar City has buffets, grills, cafés and concessions throughout the park. Even the pickiest of eaters can get their fill at one of the dozen restaurant options. Menu items range from traditional theme park fare like hot dogs and hamburgers to the more hearty meals like beef brisket and honey-glazed ham and carrots.
Specialty Shops, Classes & Craftsmen
Shop at one of 60 unique shops and enjoy crafts demonstrations from dedicated artisans. Or sign up to learn a craft straight from the craftsman him/herself. There are also special daily classes at the Midwest Living Culinary & Craft School (extra fee is required for this activity.)
The Silver Dollar City Mobile App
There is a world of excitement that awaits you at Silver Dollar City and this app will help you get the most out of your visit. It has a GPS enabled map to help you quickly find what you're looking for, current ride wait times, daily entertainment schedules, as well as convenient ticket purchasing. It's the perfect addition to your Branson vacation!
Like our
Facebook page
 and share your favorite vacation memories!