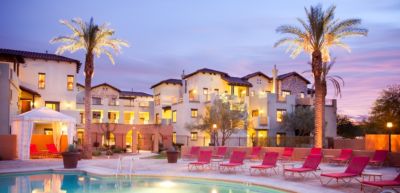 Bluegreen resorts are located in a diverse range of destinations, giving owners like you an array of vacation experiences to choose from. To help you start planning from now for your 2018 vacation and make the most of all your Vacation Points, we've provided some of our favorite things to do and see near some of your favorite resorts that will enhance your vacation experience even more.
Explore the Beauty of the Sonoran Desertscape
Cibola Vista Resort and Spa in Peoria, Arizona is a great place to relax and unwind, play golf, tennis and just generally revive, refresh and chill out while enjoying the stark beauty of the surrounding Sonoran Desert. Most vacation travelers to the Phoenix area fill their itineraries with the customary activities—hiking area parks, dining and nightlife, and day trips to Sedona or to the Grand Canyon. But MIM, the Musical Instrument Museum just northeast of downtown is the largest of its kind in the world. TripAdvisor users rate it the No. 1 attraction in Phoenix so it's not just a place for musicians and instructors. Fans of music of all kinds can enjoy live performances, kids' programs, events, exhibits and hands-on experiences.
Sample Michigan's Amazing Vintages
Located less than two hours from Mountain Run at Boyne™, in Boyne Falls Michigan, Old Mission Peninsula in Traverse City is a beautiful wine-producing region. Situated at the Earth's 45th Parallel, it's at the exact same longitude as Bordeaux, France; Piedmont, Italy; and the Willamette Valley in Oregon—one of the best climates for growing wine-making grapes. If you're a connoisseur of the grape, the 45th Parallel is unparalleled.
Among the vineyards of Old Mission Peninsula are 2 Lads Winery, Chateau Chantal, Bowers Harbor Vineyards, Brys Estate Vineyard & Winery, Chateau Grand Traverse, Peninsula Cellars, Hawthorne Vineyards and Black Star Farms. Take a tour, enjoy a tasting and celebrate the delights of Michigan's own Wine Country!
Frolic in The Dells
Wisconsin Dells, home of Bluegreen Odyssey Dells™ and Christmas Mountain Village™, calls itself "The Water Park Capital of the World®." And it is, indeed, a mecca for aquatic recreation. But that's just the beginning. Canyon Creek Riding Stables is just six miles down the road in Lake Delton, so you can easily slip back in time to the Old West. Take a family trail ride to Tombstone, Canyon Creek's very own western town. Or you can trek through the magnificent cliff-walled gorges in a quaint horse-drawn carriage. For music lovers, the beautiful Crystal Grand Music Theater, Wisconsin Dells' premier venue, offers seating for up to 2,000 people. Audiences enjoy performances by popular rock, country and comedy stars in a beautiful and intimate setting. The Tommy Bartlett Show, a 60-year family entertainment extravaganza, is renowned for its comedy acts, amazing stunts, expert water skiers and daredevil troupe of performers. The adjacent Tommy Bartlett Exploratory, a science and technology center with more than 175 interactive activities, features a rare and authentic Russian space station MIR core module.
Stick Your Toes in the Sand on the Grand Strand
Along South Carolina's famous Grand Strand, the Bluegreen resorts of SeaGlass Tower™, ShoreCrest Vacation Villas™, I & II, Carolina Grande™, Harbour Lights™, and Horizons at 77th in Myrtle Beach welcome visitors to enjoy fun-filled vacations of sunbathing, swimming, golf, dining, amusements and more. Beyond those wonderful things, the area provides other activities and distractions. T.I.G.E.R.S. Preservation Station at Barefoot Landing in North Myrtle Beach is a wildlife conservation facility that features "animal ambassadors"—including Siberian tiger cubs—who you can pose and interact with for a fee. Hop aboard a pontoon boat at Cap'n Rod's Lowcountry Plantation Tours and explore the ancient plantations and long-abandoned rice fields of Winyah Bay. Low-country native Cap'n Rod entertains and enlightens with the history and local lore of the area. Myrtle Beach Helicopter Rides offers a range of breathtaking aerial tours of the Grand Strand, with views that will give you a different perspective of the area.
Destinations 2018
There's more to explore when you book your 2018 Bluegreen Vacation.
Like our
Facebook page
 and share your favorite vacation memories!