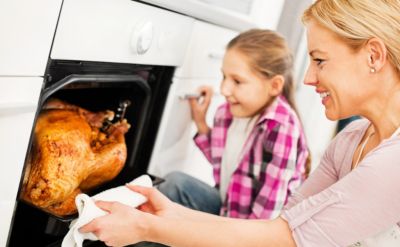 Sure, you can dine out. No one will think less of you if you celebrate the holidays at a nearby restaurant where you'll be served and treated as a valued guest. After all, you're on vacation. Why fuss?
But the joy of gathering as a family, with young and old pitching in to prepare and serve a festive meal, is priceless. It's also a lot easier than you think in your suite with a fully equipped kitchen.
If you're a carnivore, preparing a savory turkey, roast beef or baked ham can be done in your suite. Make it the same way as you do at home, or try something different. Your villa's kitchen is up to the task and your Bluegreen resort is near a convenient supermarket, so you needn't worry about bringing ingredients from home — unless there's a secret spice blend or favorite kitchen implement you just cannot live without!
It's not even necessary to cook a complete meal if you'd prefer to keep things simple. Wherever you are, you can surely order a fully cooked dinner with all the trimmings plus beverages from a local restaurant or market, then serve it in high style (and complete privacy) in your villa. Or, you can buy a cooked main course, then add your own side dishes and desserts.
Main courses
Here's the simplest, easiest way to cook your turkey. Roast beef is absurdly easy, too. You can also cook potatoes, carrots, turnips and parsnips along with the beef in the same pan. For a simple au jus-style gravy, buy a couple of cans (or a 1-quart box) of beef broth, preferably low sodium, pour into a pan, bring to a boil, lower to a simmer, reduce it by half and concentrate the flavor as a sauce for your meat and vegetables. If there are pan juices left after roasting, skim the fat and add to the reduced broth. For a more traditional gravy, thicken with flour or cornstarch. You can also purchase canned gravy, make simple chimichurri or an even easier version by blending chopped parsley, garlic, salt, pepper and olive oil. Hams are easiest. Since they're already cooked, just follow the directions on the wrapper. If you want to get a little fancier, try baking the ham.
Veg out
Naturally, not everyone eats meat. Fortunately, there are plenty of alternatives. Most vegetarians and vegans have learned to cook by necessity, so encourage them to contribute to the meal with a substitute main course that can also double as a tasty side dish for meat-eaters.
Sides
For many people, it's all about the side dishes; the main course is just an excuse for dressing, mashed potatoes, gravy, yams, green bean casserole, cranberry sauce and other so-called accompaniments. Brussels sprouts have become a new favorite of gourmands and food truck aficionados. Here's an easy recipe for this humble but super-healthy vegetable that's making a big and flavorful comeback.
Bacon Brussels Sprouts

Ingredients
1-2 pounds of Brussels sprouts, rinsed, towel-dried and halved
3-4 slices of bacon, cut into small pieces
2 sliced scallions or 1 small onion
1 tbs. butter, olive or vegetable oil
½ tsp. black pepper
1 tbs. chopped parsley (optional)
Fry bacon in a large skillet over medium heat until fat is rendered and bacon is crisp (but not burned). With a fork or slotted spoon, move cooked bacon to a dish and hold. Make sure the bottom of the frying pan retains bacon fat, reheat and add butter or oil. Add Brussels sprouts and scallions (white part only; retain green part for topping) or onions, and black pepper, stirring to blend everything. Cook on low heat, stirring as necessary until sprouts are completely wilted and begin to brown. Add cooked bacon, combine with cooked sprouts and serve immediately, topped with thinly sliced green scallions and/or parsley.
Leftovers
If you've got at least a cup of turkey, ham or roast beef plus vegetables on hand, a semi-homemade pot pie is a delicious way to present leftovers. Here's a super-easy way to make it happen.
Pot Pie
Ingredients
1 cup leftover turkey, chicken, beef, pork or ham
Leftover vegetables; green beans, corn, squash, carrots, etc. Or cooked canned or frozen vegetables
1 can Cream of Mushroom or Cream of Celery soup or 1 cup thickened gravy
Shortening, lard or vegetable oil
Premade pie-crust dough with top and bottom
Grease pie pan with shortening, lard or vegetable oil and fit bottom pie crust in place. Fill with leftover meat and vegetables. Add can of soup or thickened gravy. If there are not enough vegetables, add cooked frozen or canned mixed vegetables to fill but do not overstuff. Place top crust over the filled bottom crust, pinching edges with your fingers to attach. Pierce top crust in about six places to vent. Place in a preheated oven at 375° for 40 minutes or until the crust is golden brown. Remove from oven and rest for 5-10 minutes before serving.
Dessert
And last but not least, don't forget to indulge your sweet tooth. The holiday is filled with delicious goodies but what could be easier than an apple pie to fill your suite with the smell of warm apples and cinnamon.
Easy As Apple Pie
Ingredients
3 to 4 medium apples, peeled, cored and sliced
1 cup of sugar
1/4 teaspoon nutmeg
1/2 stick unsalted butter, cut into bits
2 store-bought pie crusts
Place bottom crust in pan. Add apples, sprinkle with sugar and nutmeg. Top with butter, place top crust over and vent with a few holes poked in pastry top. Bake 375 degrees for one hour.
Like our
Facebook page
 and share your favorite vacation memories!