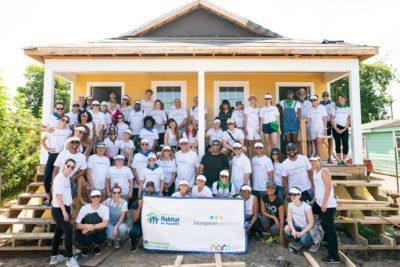 Have you heard of voluntourism? It's best described as tourism in which travelers do voluntary work to help communities or the environment in the places they are visiting. Bluegreen is thrilled to launch an opportunity for our owners to participate in a chance to give back and make a difference in someone else's life. This is more than your average vacation—voluntourism can be a remarkable and wonderful way to both see—and improve—the world.
We currently have voluntourism events planned for 2019 with two organizations, Deliver The Dream and Habitat for Humanity. 
Deliver the Dream's mission is providing healing retreats that enable families living with a serious illness or crisis to build bonds and form relationships with other families who are experiencing the same in order to regain strength in mind, spirit, and family…one retreat at a time.
Habitat for Humanity's mission is to bring people together to build homes, communities, and hope. Habitat for Humanity partners with people in your community, and all over the world, to help them build or improve a place they can call home. Habitat homeowners help build their own homes alongside volunteers and pay an affordable mortgage. With the support of volunteers, Habitat homeowners achieve the strength, stability, and independence they need to build a better life for themselves and for their families.
New for 2019, there are several opportunities near or at our resorts. Check out our current list:
Charity
Event Dates and Location
Details
Habitat For Humanity
October 4, 2019
Fountains Resort and Greater Orlando, FL Area
Helping on a Habitat for Humanity Greater Orlando & Osceola County construction site is one of the most unique, hands-on experiences in Central Florida. Whether you have never swung a hammer or you're a seasoned professional, they will provide the training and tools needed to make a difference.  Here is the schedule for this Habitat For Humanity event:

Friday, October 4
9:00 AM-2:00 PM: Let's Build – Help build and repair homes in the Silver Pines area, a developing community outside of the heart of Orlando. Roll up your sleeves and pitch in with tasks like driveway reconstruction, interior, and exterior painting, siding installation, etc. Every hand makes a difference and no task is too small. No prior experience is needed to participate.
Water: There will be plenty of water on site
Lunch: Lunch will be provided.
Dress Code: There will be tasks like painting, landscaping, siding, and caulking, so you must wear clothes and shoes that can get dirty and possibly painted. T-shirts or tank tops are fine. Please wear long pants or shorts of modest length. We also suggest wearing a hat and/or bringing a bandanna to help protect you from the Florida sun.
Footwear: Flat, hard-soled, closed-toe shoes are required (construction boots and sneakers are acceptable, but no heels, clogs, Crocs, or dress shoes).
3:30 PM-6:30 PM: Ultimate Pool Party – Keep it cool by the Fountains pool with Habitat and Bluegreen at our ultimate pool party including food and beverages, a DJ and a great time.

If you are interested in participating please complete the HFH Registration Form and Liability Waiver. Please fill the form out in completion and email to Public.Relations@bluegreenvacations.com no later than September 13th. If you must cancel please contact Public.Relations@bluegreenvacations.com no later than September 20th. You will be contacted directly about the details for this event.

Deliver The Dream 
December 6 – 8, 2019
Fountains Resorts in Orlando, FL
Join us as we help honor combat veterans and their families for a weekend of beautiful memories to last a lifetime. Owners will give back by supporting families in fun-filled events and activities including pool time as well as art and crafts. Not only are the activities fun, but they provide families with a moment to renew and refresh. See the agenda below. You can participate in as many activities as you would like during the weekend.

Friday, December 6
12:30-2:00 PM: 'Diving' into Deliver the Dream – Kick off the weekend with a poolside welcome bash and 'dive' into orientation. Meet the staff and other volunteers as well as our mascot "Hope The Bear".
3:00-4:30 PM: Outdoor Extravaganza – Fun in the sun poolside activities including tie-dyeing, face painting, tattooing, name tag decorating, pool games and more.

Saturday, December 7
9:15-12:00 PM: Water World – Volunteers will help with therapeutic recreational team-building games and activities that take place around the pool. Bring a bathing suit and a towel, you could get wet!
1:00-3:30 PM: Art World – Take to the stage for therapeutic art and theater-based games, including skits, plays, creative personalized mask activities and more.

Sunday, December 8
11:30 AM-12:45 PM: Until We Meet Again Craft – Let's get creative and help the families walk away with a beautiful memento from the weekend by creating personalized scrapbooks using photos that were captured throughout the weekend.
12:45-1:30 PM: Closing Ceremony – Hats off to a weekend you'll never forget! Share your experience about how you delivered a meaningful dream throughout the weekend and participate in a candle lighting ceremony to commemorate the give-back celebration.

If you are interested in participating you will need to complete an Activity Participation & Background Check Form (due to the nature of the event). Please fill the form out in completion and email to Public.Relations@bluegreenvacations.com no later than November 13th. You will be contacted directly about the details for this event.
Space is very limited so please complete your request soon to participate in this heartwarming and unique Bluegreen Owner experience. Can't wait to see you there!
Like our
Facebook page
 and share your favorite vacation memories!