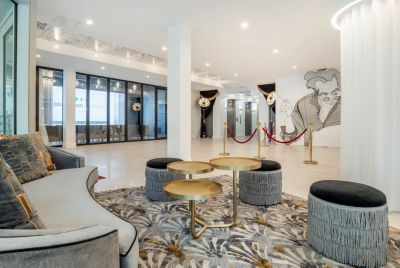 Be one of the first to experience The Marquee, the newest Bluegreen Vacations resort in the Big Easy!
The tall, elegant and stylish Marquee resort rises 17 stories above the vibrant streets of New Orleans, offering impressive views of the Crescent City. Featuring innovative décor that reflects its location in the heart of New Orleans' historic theater district, The Marquee is grabbing the limelight with an eclectic combination of well-appointed comfort and style. The Marquee puts guests within walking distance of amazing dining venues, art galleries, live entertainment, sightseeing, shopping and more, and is only a mile from Bluegreen Club La Pension™–its sister resort–in the city's famed French Quarter,
The clean lines and restful tones of The Marquee's lobby set the stage for a relaxing stay. While the sounds of entertainment fill the theater district just outside, The Marquee's 94 spacious villas feature studio, two- and three-bedroom accommodations. From Kashmir-white granite countertops to warm wood tone floors and modern lighting fixtures, the open floor plans feature clean and classic lines.
High above the city, the rooftop terrace pool will provide ample space for leisurely sunbathing or a brisk afternoon swim. And the fitness center will feature equipment for an invigorating workout before an evening stroll to the French Quarter just blocks away.
Besides The Marquee, the Theater District is also home to revitalized historic venues such as the Saenger, Joy, Orpheum and Mahalia Jackson theaters. In a city known for incredible music and shows, The Marquee is central to everything that makes New Orleans a city of romance, history, culture and charm.
Just a short walk from The Marquee, the world-famous French Quarter is home to centuries of history, amazing architecture and a variety of entertainment, dining, live music and sightseeing options. It's a must-see and will make your next visit to this eclectic city a most memorable one.
Sign in to your account to book your reservation at The Marquee today!
Like our
Facebook page
 and share your favorite vacation memories!