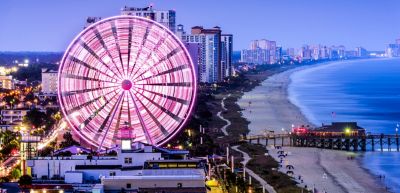 Everyone looks forward to a vacation getaway, especially when all the fun has been planned for you!
Have you heard about our exciting Bluegreen Referral Parties? Invite your Qualified Referrals** to come and enjoy the benefits of Bluegreen Vacations with you! Myrtle Beach is just one of our many destinations that hosts an array of fun-filled unique Referral Parties that share the best activities the beach has to offer. In Myrtle Beach, owners and their guests can attend an upcoming referral party cruise, dine at The Original Benjamin's Calabash Seafood restaurant, go to the Carolina Country Music Festival on the beach or partake in the annual Polynesian Luau!
Owners, and their guests, recently put a check on their "Bucket Lists" when they visited the T.I.G.E.R.S. preserve at the Myrtle Beach Safari and had the chance to meet ligers, tigers and many more of our planet's most iconic and endangered species!
Myrtle Beach is known as a wonderful vacation spot for both entertainment and relaxing by the water. Make this destination your one stop shop for a variety of shows and experiences that have all been planned for you! Click here for a list of upcoming Referral Parties at all Bluegreen destinations or call 855.317.3244 to book your Myrtle Beach Referral Party Today!
BONUS! When your Qualified Referral** becomes a deeded Bluegreen Vacations owner, while traveling on a Bluegreen Rewards branded vacation package, you could earn* up to 150,000 Bluegreen Rewards! That's a $1,500 value! It truly pays to come and play in beautiful Myrtle Beach! Register your Qualified Referrals** here.
Check out our upcoming Referral Parties!
Time to get social!
We would love to hear your feedback about the Bluegreen Rewards Referral Program! Don't forget to check us out on Facebook and Twitter. Call 866.362.6733 or visit bluegreenrewards.com to learn more about Bluegreen Rewards.

Like our
Facebook page
 and share your favorite vacation memories!