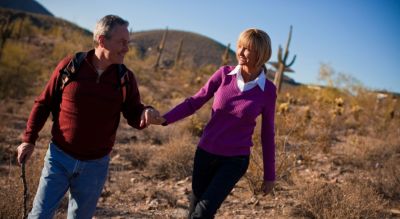 Now is a great time to plan your fun-filled vacation at Cibola Vista Resort and Spa in Peoria, Arizona and Bluegreen Club 36™ in Las Vegas, Nevada! Both resort destinations have excellent availability and offer plenty of excitement and adventure. Both are also conveniently located near restaurants serving delectable regional dishes with plenty of Southwestern flair.
Travel into the Arizona Desert
Located just outside Phoenix, Cibola Vista Resort and Spa boasts an incredible array of outdoor activities, sightseeing opportunities and resort-style amenities. Start your day with a swim at the beautiful family-friendly Lagoon Pool surrounded by the stunning desert landscape, or the more subdued Franciscan Pool, exclusively for 21-plus year-old guests. Saddle up for a horseback trail ride through the stark beauty of the American Southwest. Later, shoot a round of golf and enjoy wet and wild water sports on nearby Lake Pleasant, set against a striking backdrop of red rock formations. At the end of your day, come home to a spa appointment for a relaxing massage.
Another outdoor option is viewing the otherworldly sandstone formations dominating Papago Park. Hikers can explore new areas in thepark's vast network of trails winding through the Sonoran Desert. Anglers seeking a prize catch can trawl in nearly eight acres of lagoons stocked with catfish during the summer and trout in the winter (Arizona urban fishing license required). Visitors can also explore two major Papago Park family-friendly attractions: Phoenix Zoo and Desert Botanical Garden. The Tomb of Gov. George Wiley Paul Hunt, visible from virtually everywhere in the park, is another great stop inside this immense playground.
For more outdoor cultural pursuits, mark your calendars for the first Friday Art Walk every month and head to downtown Phoenix for a visual feast that's sure to please the senses. Tour more than 70 venues and galleries, shops and historic homes. Artwork changes monthly, so you'll enjoy a fresh perspective on the culture of the city each time you visit.
Phoenix Airport Museum at Sky Harbor International Airport is one of the largest airport museums in the country. The institution offers more than 500 works of art displayed in five buildings and there's no need to worry about going through security to see them. Local Southwest artists display their artwork for all to see. Most of the exhibitions are on display in the terminals. Visitors can view the free collections 24 hours a day.
Downtown's Phoenix Symphony Hall is the home of the Phoenix Symphony Orchestra, Arizona Opera and Ballet Arizona. Broadway touring companies, dance productions, appearances by national entertainers and others are featured throughout the year. It's a great venue for world-class entertainment of all types.
Here is just a sample of the villa options at Bluegreen's Cibola Vista Resort and Spa:
4-night stay *
1-bedroom Junior/Standard
Combined 2-bedroom view (Master + Studio)
Season
February – March
Late December
5,000 Points
10,000 Points
Ultra Red
January
Early to Mid-April
Mid-October – November
Late December
5,000 Points
10,000 Points
High Red
Mid-April – Mid-October
Late November – Mid-December
4,000 Points
8,000 Points
Red
Additional villa types are available. Please see the Points Table on the Resort Details page for full point values.

Go Beyond the Glitz and Glamour of Las Vegas
Place your bets wherever, but don't gamble on a place to stay in Las Vegas. At Bluegreen Club 36™ it's all about latitude and attitude. This desert oasis, located at latitude 36 degrees north (hence its name), is just a few blocks from the magnificent world-class casinos, nonstop entertainment, exceptional dining and shopping of the Vegas Strip. You can also venture from the neon lights for an incredible round of desert golf. Whatever your fancy, there's something to do at every corner, and you're guaranteed a winning experience from dawn to dusk to dawn.
At the tip of the Hualapai Indian Reservation lies the Valley of Fire State Park, a molten landscape of Aztec sandstone with petrified dunes dating from the Jurassic era. The nearly trackless land features petroglyphs, arched rock formations and odd-shaped boulders amid a dark expanse of desert landscape. Known as one of the most photogenic places in the Southwest, sunsets become fiery events, with rocks appearing to be ablaze from the light of the late afternoon sun. Click here to learn more about the wonders of Valley of Fire State Park.
Nestled in the Black Canyon of the Colorado River since 1936, the Hoover Dam stands fast against trillions of gallons of water threatening to rush through the Nevada-Arizona border. The imposing dam also formed Lake Mead, the largest reservoir in the country, and a major recreational area. Its generators provide power to Nevada, Arizona and California. Don't miss the inside tour of these massive turbines that tower 726 feet above the Colorado River! This modern marvel of American ingenuity is visited by more than a million visitors each year.
Come for Gucci, stay for the fountain shows. Statues spring to life within the 675,000-square-foot Forum Shops at Caesars Palace. The Fall of Atlantis features King Atlas, a fire, a flood and very lifelike machine-animated characters. It's open Sunday-Thursday, 10 a.m.-11 p.m., Friday and Saturday, 10 a.m.-midnight.
Want to tell Hollywood television executives exactly what you think about the programming from their networks? You can give them an eye and earful at the CBS Television City Research Center in the MGM Grand. You'll get a chance to view TV shows and provide your opinions. You might find yourself helping to select the next smash hit! Open daily from 10 a.m. to 8:30 p.m.
Bluegreen Club 36 has many stay options for you and your family. Below is just a taste:
4-night stay *
1-bedroom Standard
Combined 2-bedroom view (1-bedroom Standard + 1-bedroom Deluxe)
Season
Mid-September – Mid-November
Late December
5,720 Points
11,960 Points
Ultra Red
March – Mid-September
Mid-December
4,800 Points
10,080 Points
High Red
Mid-January – February
Mid-to-late November
4,400 Points
8,520 Points
Red
Mid-April – Mid-October
Late November – Mid-December
2,400 Points
5,200 Points
White
Additional villa types are available. Please see the Points Table on the Resort Details page for full point values.
* Reservations are subject to availability. Points values above are based on a Monday check in and refer to seasons outlined in this article. Weekend and holiday availability is limited.
Book your Southwest vacation today!
Like our
Facebook page
 and share your favorite vacation memories!