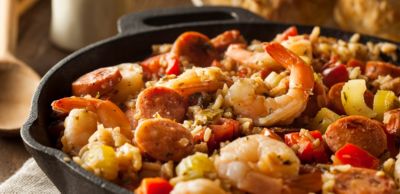 To experience America's regional cuisine is to experience the history of this country. Explore the flavors of America on your next Bluegreen vacation! American cuisine is as varied as the geography of the U.S., with many regions featuring unique dishes that show direct links to historic culinary influences. From the Frogmore seafood stew of coastal Carolina's Lowcountry kitchens to a rich New Orleans etouffé, and South Florida's savory pasteles to the spicy Tex-Mex cuisine of Arizona, there are a range of delicious culinary styles just waiting for you to experience and enjoy!
FLORIBBEAN CUISINE
Miami, FL
This relatively new regional cuisine was created by the arrival in Florida of immigrants from the Caribbean and Latin America—primarily Cuba, Jamaica, and The Bahamas. Haitian, Central American and Brazilian cooking are also an influence. Also known as "New World Cuisine," Floribbean cooking continues to evolve in South Florida, incorporating fresh local seafood, chicken, red curry, lemongrass, ginger and scallions, plus locally-harvested subtropical fruits and vegetables such as mango, guava, papaya, plantains, coconuts, citrus and lychees.
As the Latin population of South Florida grew, so did the Latin influence in Floribbean cuisine, which now includes such favorites as arroz con pollo (chicken and rice), paella (seafood, chicken and sausage baked with race and saffron), rice and black beans, jerk chicken or beef (dry-rubbed or marinated in spices), lechón asado (a roasted pork dish), tostones (fried plantains with garlic), boiled yuca, croquetas (fried croquettes filled with meats and cheeses), pastelitos (puff pastries filled with guava and cheese), and more.
Add some "olé" to your culinary repertoire with a visit to these Floribbean eateries located close to Solara Surfside™ resort:
Wynwood Kitchen & Bar in Miami's trendy Wynwood neighborhood serves up a perfect blend of Latin and Caribbean-influenced cuisine in a variety of flavorful small plates, plus you can mix and match dishes to satisfy your own palate.
wynwoodkitchenandbar.com | 305.722.8959 | 35 minutes away
Ortanique On the Mile in Miami's Coral Gables neighborhood serves up a menu infused with influences from the Carribean, including seared ahi tuna with mango papaya salsa—save room for the tres leches dessert!
ortaniquerestaurants.com | 305.446.7710 | 46 minutes away
Bolivar Miami Beach features an exotic fusion of South American cuisine, from tangy Peruvian ceviches to spicy seafood plates and delicious Brazilian and Argentinian-style steaks.
bolivarmiamibeach.com | 305.305.0801 | 30 minutes away
SONORAN CUISINE
Phoenix, AZ
Sonoran cuisine was developed in northwestern Mexico from native American, Spanish and European influences that adapted to the conditions of Arizona's Sonoran Desert as the Spaniards began expanding their missions into Arizona in the 17th century. During the Mexican Revolution in the early 20th century, many from the northern Mexican state of Sonora escaped war and fled across the border to Arizona, adding their influence to this regional cuisine.
Unlike much of the rest of Mexico where corn is king, Sonora is a wheat-growing region. Thus, although they use corn tortillas for a variety of dishes, the flour tortilla gets special attention. Sonora is also a land of vast cattle ranches, which gave the cuisine its emphasis on beef. Some of the best-known Sonoran dishes include burritos, chile rellenos, chile con carne, chimichangas, enchiladas, menudo, nopales (a variety of cactus salads), pozole, quesadillas, pico de gallo, guacamole, tacos, tostadas, tamales and sopapillas.
You can find Sonoran-style cuisine throughout Arizona, but primarily in Phoenix. Sample some great Sonoran dishes at these local restaurants just minutes from Cibola Vista Resort and Spa:
La Santisima in the Phoenix suburb of Glendale features inventive burritos, specialty tacos and mouthwatering quesadillas plus an amazing salsa bar. Try the Oaxaca Black Mole Chicken Shark Taco!
lasantisimagourmet.com | 602.254.6330 | 35 minutes away
Richardson's Cuisine of New Mexico is actually located in central Phoenix and serves up Sonoran cuisine in a laid-back atmosphere and gorgeous patio setting.
richardsonsnm.com | 602.265.5886 | 35 minutes away
Carolinas: With several locations in Phoenix, their claim to fame is flour tortillas, which are made fresh daily so thin you can see through them. You won't be disappointed with any of their menu selections.
carolinasmex.com | 602.252.1503 | 35 minutes away
CAJUN & CREOLE CUISINE
New Orleans, LA
Centered around New Orleans, Cajun and Creole cuisines overlap and complement each other. Cajun cooking is named for the French-speaking Acadians who were driven from eastern Canada by the British in the 18th century and resettled in Louisiana. Recipes are usually a three-pot affair, with one used for steamed rice, one for the main dish (seafood or sausages), and a third for vegetables. Green bell pepper, onion and celery are so essential to both Cajun and Creole cooking that they are called "the holy trinity."
Creole cuisine blends French, Spanish, West African, Caribbean, European and Southern influences into a spicy amalgamation of flavors. Unlike Cajun dishes, Creole cuisine includes tomatoes and a heavier use of roux—a butter and flour base for creamy sauces and soups. Well-known Creole dishes include Gumbo, Jambalaya, Shrimp Creole and Crawfish Etouffé
Jazz up your taste buds with a visit to one of these eateries and indulge in the best authentic Cajun and Creole dishes while enjoying a stay at Bluegreen Club La Pension™:
Commander's Palace is a gracious New Orleans icon serving up refined Creole fare from the heart of the city's tree-lined Garden District since 1893.
commanderspalace.com | 504.899.8221 | 12 minutes away
Jaques-Imos serves up "real Nawlins food," including Creole soul food classics like jambalaya, duck and andouille gumbo, blackened redfish and some of the best fried chicken this side of the Mississippi in a lively, mural-lined hotspot.
jaques-imos.com | 504.861.0886 | 10 minutes away
Bon Ton Café in downtown New Orleans is housed in the historical 1840's Natchez building, and serves up stylish Cajun favorites from the Louisiana bayous including etoufeé, shrimp and oyster jumbalaya, crawfish bisque and more.
thebontoncafe.com | 504.524.3386 | 4 minutes away
LOWCOUNTRY CUISINE
Myrtle Beach & Charleston, SC
The Lowcountry region stretches roughly along the South Carolina coast from the Savannah River in Georgia north to Pawley's Island and Myrtle Beach, with Charleston at its epicenter. The marshlands of this massive coastal plain were ideal for planting indigo, cotton and especially long-grain rice, which has been cultivated here since the 17th century on large plantations. It's a large component of Lowcountry cuisine, along with fresh seafood including crab, shrimp, fish and oysters, all plentiful in the estuaries and coastal waters of the region.
Like most cuisines found in the South, Lowcountry contains a mix of cultural influences, including West African, French, English and even Caribbean. It's centered around large, one-pot stews like gumbos with fresh okra, catfish stew, shrimp and grits, benne-oyster soup, and seafood boils. Condiments like chutneys, mixed pickles and relishes are also a big part of the cuisine, as are preserves of fig, spiced peach and watermelon.
Check out these area restaurants to get a taste of authentic Lowcountry cuisine while enjoying a stay in Myrtle Beach at Carolina Grande,™ Harbour Lights,™ SeaGlass Tower,™ Shore Crest Vacation Villas™ I & II or Horizons at 77th, or in Charleston at King 583 or The Lodge Alley Inn™:
Lowcountry Bistro is a casual Charleston eatery that serves up fresh takes on traditional Lowcountry favorites, including shrimp and grits, Frogmore stew and Carolina crab cakes for brunch, lunch and dinner, 7 days a week.
lowcountrybistro.com | 843.302.0290 | 4 minutes away The Lodge Alley Inn & King 583
Magnolias is a Charleston classic that delivers top-notch Lowcountry favorites, including Lowcountry bouillabaisse, spicy shrimp and sausage over grits, blackened catfish and more.
magnoliascharleston.com | 843.577.7771 | 1 minute away from The Lodge Alley Inn & King 583
Sea Captain's House in Myrtle Beach offers Lowcountry standards like crab cakes, shrimp and grits, she-crab soup and even fried green tomatoes, all served in a cozy beachfront cottage setting.
seacaptains.com | 843.448.8082 | Less than 20 minutes away from all Myrtle Beach Resorts
Dine on regional cuisine during your next Bluegreen vacation.
Like our
Facebook page
 and share your favorite vacation memories!