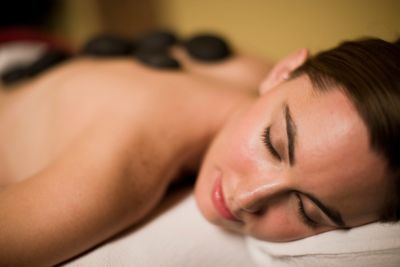 Orlando is the fun-filled destination with theme parks, attractions and non-stop go, go, go! But you also need time to relax and rejuvenate on your Orlando vacation. Well, tranquility is just steps away! The Fountains Resort in Orlando is delighted to announce the opening of Soleil Spa located in the lobby of Building 1. Soleil Spa's Grand Opening is November 1st, 2019.
Soliel, meaning "sun" in French, is the very force the spa is built around with a focus on energy and renewal. Nothing is more important to us on earth than the sun. The sun warms our seas, stirs our atmosphere, generates our weather patterns, and gives energy to the growing plants that provide the food and oxygen for life on earth. In this same fashion, Soleil Spa serves to stir your senses and bring you to life.
The new spa offers a farm-to-table spa menu with an extensive selection including massages, facials, body wraps, and manicure/pedicures. All treatments provided contain pure and locally sourced ingredients with hand-picked fresh herbs, fruits, vegetables and pure spring water for optimal nourishing powers. The fruity aromas and herbal scents will leave you smelling just as great as your skin will be feeling. With orange being the official state fruit of Florida, Soleil Spa ensures the fruity aromas are predominantly from the citrus family. From grapeseed oils, shea body butters, gourmet milk soaps, essential oils artfully distilled from seeds, bark and flowers to facial and body creams derived from plant stem-cell extracts, the quality and expertise caters to the whims of the most discriminating of tastes.
And as a Bluegreen Owner, you'll receive special discounts on spa treatments. Check with the Soliel Spa Desk for more details.
Rise and shine the Soleil way. Visit www.TheFountainsSpa.com for more information or call 407-961-6766 to book your treatment.
Like our
Facebook page
 and share your favorite vacation memories!