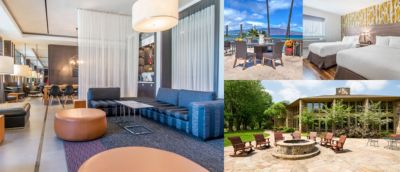 Bluegreen Vacations has handpicked a fantastic collection of high-quality resorts outside our network to expand your vacation opportunities at more than 40 popular destinations. Plus, you can choose from over 150 hotels in the upscale Choice Ascend Hotel Collection.
As a Traveler Plus Member, you can book a Direct Exchange online up to eight months in advance—at a much lower reservation fee using your Annual, Biennial or Rented Vacation Points.* To help you decide, we've narrowed it down to the top ten Direct Exchange based on bookings.
1. Cambria Hotel Downtown Nashville, Nashville, TN
Well-appointed rooms, onsite restaurant, fitness center, and heated pool. Walking distance to iconic venues, museums and more.
2. The Virginian Suites, Arlington, VA
Boutique hotel in a relaxing neighborhood just outside downtown D.C. Pet-friendly with sauna, seasonal outdoor pool, and fitness center.
3. St. James Hotel, New Orleans, LA
Stately hotel with croissants and beverages delivered to rooms. Minutes from French Quarter and historic sites.
4. Surfbreak Oceanfront Hotel, Virginia Beach, VA
Seasonal hotel is conveniently located on the Virginia Beach Boardwalk, giving you access to all the best things to do in the area.
5. Hotel Napoleon, Memphis, TN
Unique hotel in the National Register of Historic Places with classic architecture. Prime downtown location with proximity to legendary Beale Street.
6. The Capitol Hotel Downtown, Nashville, TN
Neighborhood hotel in the heart of Music City with amenities that include free breakfast, exercise room plus bar and bistro.
7, Castillo Real, St. Augustine, FL
Upscale accommodations with onsite restaurant and outdoor pool near Castillo de San Marcos, St. Augustine Beach and Anastasia Park.
8. Cambria Hotel Traverse City, Traverse City, MI
Vibrant hotel with a bistro and full-service bar, indoor pool and fitness center in beautiful Northern Michigan near Sleeping Bear Dunes National Lakeshore.
9. O Brien Historic Riverwalk, San Antonio, TX
One-of-a-kind hotel with free coffee, hot breakfast and weekday newspaper near San Antonio Historic Riverwalk.
10. Inn at The Peachtrees, Atlanta, GA
Comfortable accommodations with premium bedding in the heart of the city close to Underground Atlanta, CNN, and Piedmont Park.
To view real-time availability and book your Direct Exchange reservation, sign in to Bluegreen Owner and select Traveler Plus > Direct Exchange.
Choice Hotels, Choice Privileges, and the Choice Hotels trademarks and logos are owned and operated by Choice Hotels International, Inc. and are used with permission. All rights reserved. *Conversion fee applies. Each Bluegreen Vacation Point equals four Choice Privileges points.
Like our
Facebook page
 and share your favorite vacation memories!