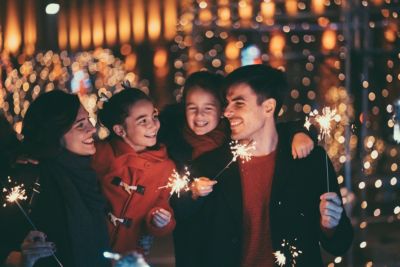 During this holiday season, you're sure to hear the beloved carol, "The 12 Days of Christmas" and maybe even try to sing along–if you can remember all the words. It's what inspired us to create a Top 12 Bluegreen Vacations Benefits list! While we haven't set it to music just yet, we're just as excited to remind valued owners like you of the many ways Bluegreen delivers a better way to vacation.
1. Flexibility: Our flexible Points system gives you the freedom to choose a different vacation experience that fits into your needs and timeframe, from sun, sand and sea to mountains, snow and ski – and everything in between.
2. Multiple Destinations and Resort Options: Feel free to create your own vacation experience from over 40 vacation destinations and more than 65 resorts across the U.S. and Caribbean. Choose from dreamy seaside escapes, invigorating mountain stays, relaxing golf getaways, historic destinations, iconic entertainment capitals and more.
3. Most Resorts Are Closer than You Think: Choosing a resort within driving distance provides for easy-breezy getaways that don't really require a lot scheduling and planning.
4. Worldwide Access: Through our alliances with RCI® and Choice Hotels®, you have access to thousands of properties outside Bluegreen Vacations' network across the U.S. and around the world.
5. Traveler Plus: Membership opens the door to a range of worldwide vacation options, including Hot Weeks Getaways, RCI® Nightly Stays, Direct Exchange stays, Hotel PointStays, cruises, Owner Adventures, Outdoor Sportsman packages and much more.
6. Bonus Time: What's better than a spontaneous Bluegreen getaway? One that doesn't require Points! It's a year-round flat nightly rate for last minute reservations to participating Bluegreen resorts. Discounted rates range from $69 to $99 per night1 for a Studio, 1-, 2- or 3-bedroom villa, and $199 to $399 per night1 for a Presidential or Concierge suite. Bonus Time reservations can be made up to 45 days in advance when booking via Vacation Services at 800.456.2582, and up to 48 days in advance when you book online. Sign in to bluegreenowner.com and select the Bonus Time Reservation option on the search bar.
7. Borrowing or Saving Points: Vacation Points can be exchanged, converted and even saved to give you and your family a range of vacation options within and beyond the Bluegreen Vacations resort network. Borrow Points from next year to enjoy a vacation this year. You can also bank your unused, expiring Points for an additional year and have up to 12 months to use them in the regular Red, White or Blue seasons.
8. Dedicated Resort Staff: The diversity of our destinations and the uniqueness of our resorts is only matched by the high standards of service, cleanliness, attentiveness and comfort at every Bluegreen resort you visit.
9. Suite Living and Resort Amenities: Our spacious, well-appointed accommodations include full kitchens and baths, separate living and dining areas, washer/dryers and balconies or patios, plus resort amenities like oversized pools, on-site dining venues, exercise rooms and more.2
10. Bluegreen Rewards: Share Bluegreen Vacations with friends and family, and if your Qualified Referral3 becomes a deeded Vacation Club Owner, you could earn up to 150,000 Bluegreen Rewards–a $1,500 value–depending on your level of ownership and state of residence.4 Use them to pay Maintenance fees, for travel via Bonus Time and Exchange fees and more!
11. Easy Online Booking: bluegreenowner.com is the best resource for all your vacation planning needs. Sign in and view resort locations, availability, descriptions, photos, 360◦ virtual tours and more. When you find the perfect vacation for you, online booking is available 24/7 – it's simple, informative and convenient.
12. Day Use Privileges: Whether it's an afternoon by a sparkling resort pool, a bite at an on-site restaurant or a rejuvenating spa visit, enjoy the amenities of select Bluegreen resorts during certain times of the year without a booked stay! Simply stop by the Guest Services desk of the participating resort you wish and register for day-use privileges.
Happy Holidays from Bluegreen Vacations!
Like our
Facebook page
 and share your favorite vacation memories!