We've been hard at work updating and upgrading our resorts to provide you with even better vacation experiences. Villas have been renovated to include new furnishings, bedding, decor and appliances designed to add quality, convenience and comfort for you and your family. Construction of new villas and brand-new or improved resort amenities is also under way to meet an ever-growing owner demand.
Here are the most recent resort improvements:
Laurel Crest™* | Pigeon Forge, TN
More than 200 villas were recently renovated with stylish granite countertops, paint schemes and decor that reflect the Smoky Mountains. Cozy new bedding, carpeting, curtains, plush couches and chairs were also added. New wood flooring was also installed in townhome kitchens.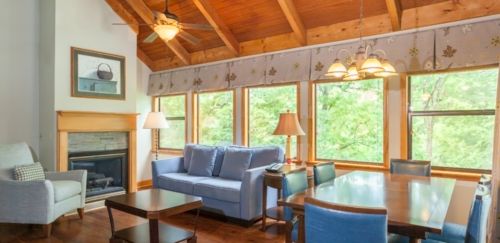 Bluegreen Club 36™* | Las Vegas, NV
Chic and modern renovations at this big city resort include new decor, paint and lighting. Stylish new dining and living room furniture was added along with comfortable beds. Presidential Suites were upgraded as well to provide even more luxurious accommodations.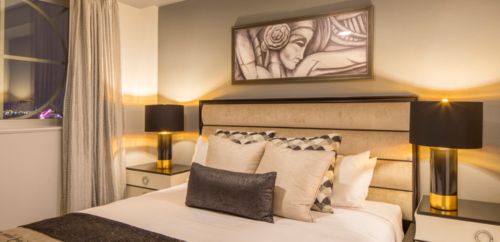 The Club at Big Bear Village* | Big Bear Lake, CA
Fourteen of the 18 Presidential Suites are undergoing renovations, with high-end kitchen appliances including Sub-Zero® refrigerators and Viking® stoves. Plush new furniture, updated countertops and new tile floors will be added as well. Living rooms and bedrooms are also receiving new furniture and TVs.
MountainLoft™* | Gatlinburg, TN
Villas received new paint, curtains, carpeting, bedding and furniture. Kitchens were upgraded with new floor tiles, cabinets, appliances and granite countertops. New wood flooring was installed in dining rooms, while bathrooms got new tile and granite countertops. The resort's townhomes were updated with relaxing new soaker tubs. Each villa with a deck now has beautiful new patio furniture. Fortunately, the resort escaped significant damage from the 2016 fires that affected the Gatlinburg area.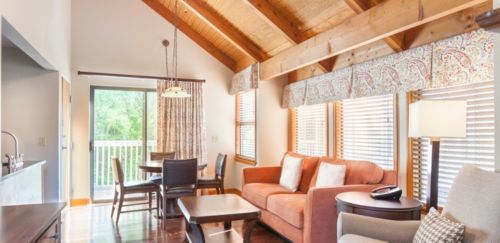 Bluegreen Patrick Henry Square™* | Williamsburg, VA
With the addition of 64 new units over the last two years, this resort has doubled in size. The new villas feature hardwood floors, granite countertops, and farmhouse-style kitchens with stainless-steel appliances and bold colors. New resort amenities include bicycle rentals, outdoor fire pit, BBQ grills and a spectacular heated indoor saltwater pool.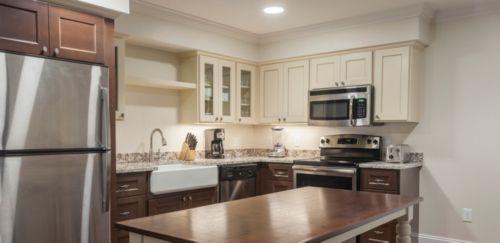 The Cliffs™ at Long Creek* | Ridgedale, MO
The first phase of construction is underway of a new 55,000 square-foot building that will boast a total of 18 two-bedroom villas. An additional 15 units—13 two-bedroom villas and a pair of two-bedroom Presidential Suites—will follow in 2018. A new mini-golf course has also been added.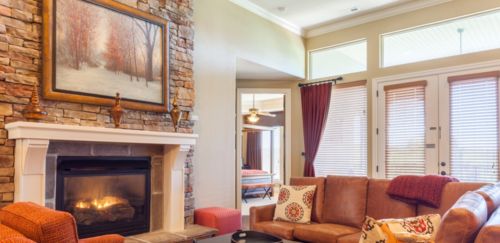 The Fountains* | Orlando, FL
Our flagship resort is overflowing with renovations in Buildings 3, 4, 8 and 10. Recent upgrades include new paint, dining room chairs, stylish lamps, cozy sleeper sofas and modern coffee tables. New artwork hangs throughout the villas and carpeting was installed for added comfort. The bedrooms feature brand-new beds and reupholstered bed boards.
Experience great resort upgrades when you book your next Bluegreen vacation!
Like our
Facebook page
 and share your favorite vacation memories!