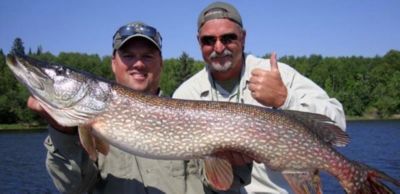 Travel to an internationally acclaimed fishing spot in Ontario, Canada, and cast your line for trophy walleye, smallmouth bass and northern pike. Remote Stevens Bay on Lake of the Woods is a top choice of anglers; it is not uncommon to spend a full day on the water without seeing another boat—except for those in your fishing group.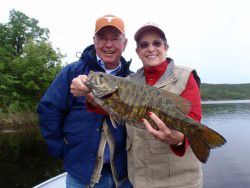 Our World-Class Canadian Fishing Trip is planned for Traveler Plus members1 and their guests in July 2020 at Young's Wilderness Camp. Located just 60 miles from International Falls, Minnesota, on a small private island in the Canadian wilderness, the camp has a history that goes back to the 1930s. The surrounding land is a serene, beautiful natural habitat for white-tailed deer, black bear and moose.
Bluegreen is offering this Canadian fishing vacation package as a part of the Outdoor Sportsman benefit, available to Traveler Plus members and their guests and at a discounted price.1 It is just one of many guided fishing and hunting vacation packages available through Outdoor Connection. All Outdoor Sportsman trips are subject to availability.
---
Learn More by watching our Recorded Webinar
Sit back, relax and get the details about all of our 2020 Outdoor Sportsman fishing and hunting trips in this webinar.
---
World-Class Canadian Fishing Trip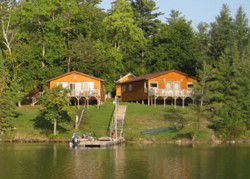 Young's Wilderness Camp
Nestor Falls, Ontario, Canada
July 6-10, 2020
Includes four nights' cabin accommodations, meals, and three days of guided fishing
Public Rate: $2,100 per person
Bluegreen Traveler Plus Rate: $3,2952 for two people (airfare and other costs not included)†
Bluegreen Traveler Plus Rate: $1,6952 for one person (airfare and other costs not included)†
†The Traveler Plus rate applies to up to three guests traveling with an owner, too! Limited spots available on this trip.
---
Here are some of the many inclusions on this World-Class Canadian Fishing Trip: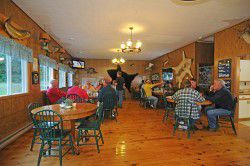 Four-night cabin accommodations
Three home-cooked meals on full days; dinner on day of arrival; breakfast on day of departure
Non-alcoholic beverages
Beer
WiFi
Three days of guided fishing
Northwood's shore lunch while fishing
Conservation fishing license
Use of deluxe boats and fishing gear
Bait
Expert fishing guides
Taxes
Round-trip shuttle service from the airport at International Falls, Minnesota, available for a charge of $70 per person. Airfare, alcoholic beverages, gratuities for camp staff and fishing guides and other costs not included. Bluegreen's group spots not reserved by Bluegreen owners at least three months ahead of the starting date will be released to the lodge to offer to the public. Non-Bluegreen owners may be at the lodge and in the hunting groups on Bluegreen's trip dates.
A 50% deposit is due at the time of booking. Nonrefundable final payment is due June 1, 2020.
---
Explore Your Outdoor Sportsman Benefit1
Outdoor Connection, a worldwide hunting, fishing and outdoor travel authority, is the official supplier of hunting and fishing vacations for the Traveler Plus Outdoor Sportsman benefit. View a catalog of other guided hunting and fishing vacations available. As a Traveler Plus member you get an exclusive discount of 10% off the price of any of the itineraries in the catalog.1
---
Call 855.645.2215 to Book Your 2020 World-Class Canadian Fishing Trip Today!
Call Bluegreen Travel Services at 855.645.2215 for information and pricing on cruises, guided tours, all-inclusive resorts, individual and group travel and more. All reservations are subject to availability.
 Follow @TravelerPlus on Twitter for daily travel deals!